How to use VOXL as USB Host
Table of contents
---
Overview
Using VOXL or VOXL Flight's USB 3.0 OTG Port (J8), the system can be used as a USB3.0 Host provided you use a non-standard USB3.0 cable. It can be used as a USB2.0 host with a standard micro-USB2.0 cable. One or more additional USB2.0 host ports are available on VOXL Add-ons (USB Expander and Debug, LTE v2, Microhard v2)
Background
Because the USB3.0 SS pins on the VOXL cannot support TX/RX swapping, they were set to peripheral mode since the Snapdragon 821 is used mainly in phones and peripheral mode is way more commonly used in a phone configuration.
In order for systems to use the standard micro-b to type A female OTG cables, they need to do TX/RX swapping.
Since VOXL can't do this, it needs to use a non-standard pinout as it's default configuration is peripheral mode.
The pinout can be found here: USB3.0 Female A Plug to Micro-B
Procedure
Plug in your USB device via a compatible USB3.0 Female A Plug to Mirco-B cable - in our case, we have a USB3.0 Female A Plug to Micro-B plug in the VOXL's J8 port.
Note: Some customers report success using USB3 with a USB3 OTG adapter like this.
Run lsusb -v

Check bcdUSB field for USB Version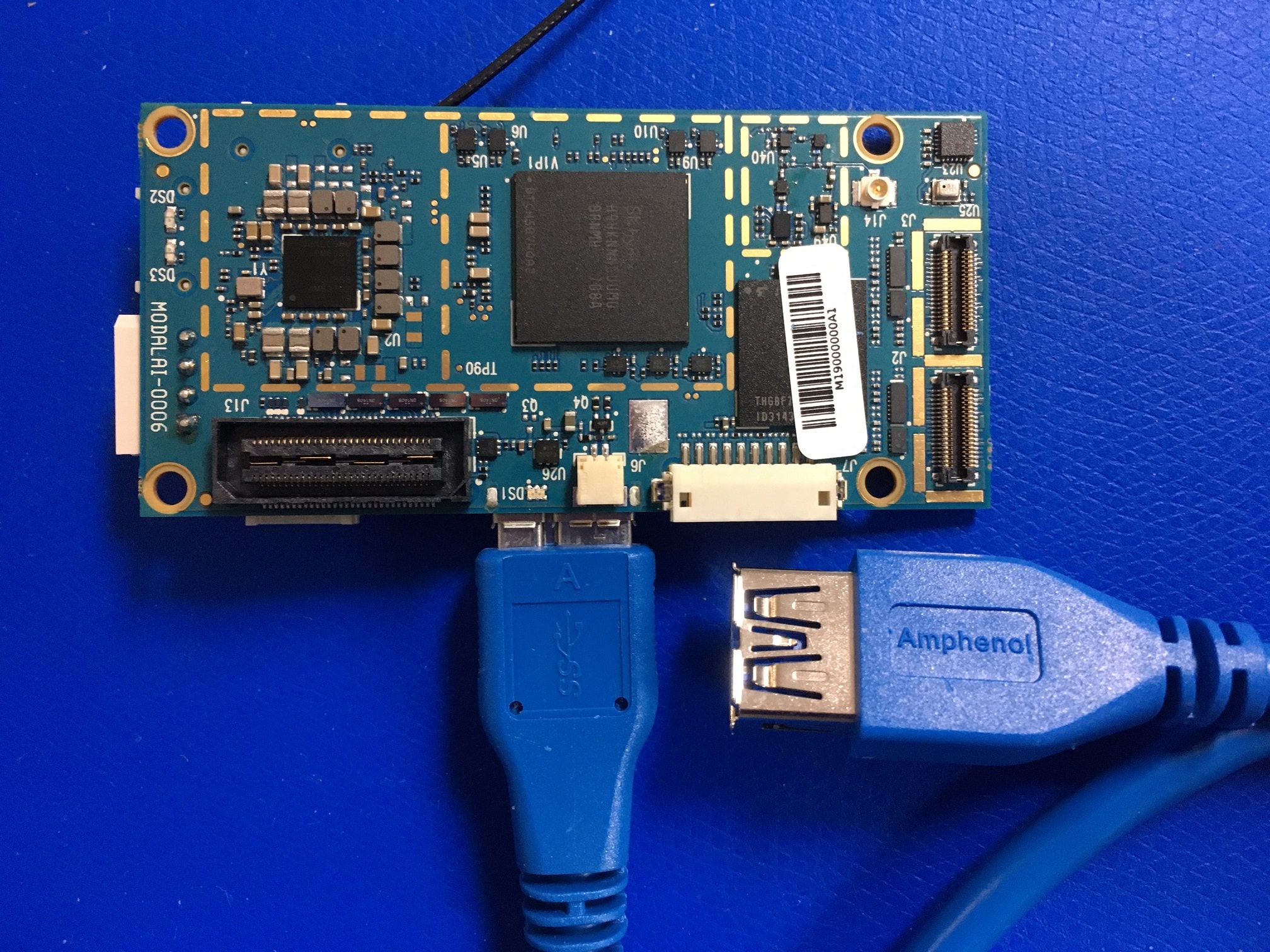 Here's an example of a USB3 device:
Bus 004 Device 003: ID 0781:5581 SanDisk Corp. Ultra
Device Descriptor:
  bLength                18
  bDescriptorType         1
  bcdUSB               3.20
  bDeviceClass            0 
  bDeviceSubClass         0 
  bDeviceProtocol         0 
  bMaxPacketSize0         9
  idVendor           0x0781 SanDisk Corp.
  idProduct          0x5581 Ultra
  bcdDevice            1.00
  iManufacturer           1  USB
  iProduct                2  SanDisk 3.2Gen1

Here's an example of a USB2 device:
Bus 003 Device 003: ID 045e:00f8 Microsoft Corp. LifeCam NX-6000
Device Descriptor:
  bLength                18
  bDescriptorType         1
  bcdUSB               2.00
  bDeviceClass          239 Miscellaneous Device
  bDeviceSubClass         2 
  bDeviceProtocol         1 Interface Association
  bMaxPacketSize0        64
  idVendor           0x045e Microsoft Corp.
  idProduct          0x00f8 LifeCam NX-6000
  bcdDevice            1.00
  iManufacturer           1 Microsoft
  iProduct                2 Microsoft? LifeCam NX-6000
  iSerial                 0 
  bNumConfigurations      1

Next: VOXL Tracking Sensor Guide
---
---